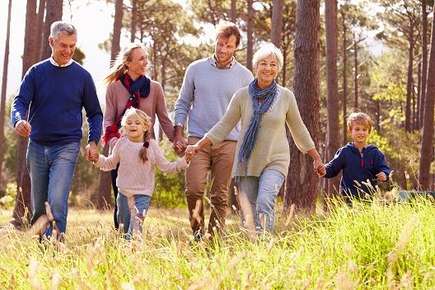 You're never too young or old to visit an acupuncture practitioner. The natural medicine practice offers important benefits that will help you stay healthy throughout your entire life.
How Does Acupuncture Work?
Acupuncture, an ancient healing art, is based on the premise that Qi, a vital life force, flows through your body. Illnesses, pain or other symptoms can occur when Qi becomes blocked at some point. Practitioners relieve blockages by inserting small needles into your body. Because the needles are often no thicker than a human hair, treatments aren't usually painful. Many people who receive acupuncture treatments report that they only notice a slight ache or feel a little pressure when the needles are inserted.
Acupuncture is helpful for treating a variety of conditions, including chronic or acute back pain, headaches, insomnia, asthma, arthritis, sinusitis, gynecologic disorders, fertility issues and other common health conditions and diseases.
Even Young Children Can Benefit from Acupuncture
All babies experience fussy periods, but when the crying never seems to stop, colic may be the cause. The condition affects 20 to 25 percent of babies, according to the American Pregnancy Association. Although babies gradually grow out of the condition after about three months, those months may seem particularly long to concerned parents. Although their babies are clearly in distress, nothing they do seems to help.
Acupuncture offers an effective way to reduce the daily crying spells associated with colic. According to research published in Acupuncture in Medicine, colicky babies who received acupuncture treatment two times a week for two weeks experienced a significant decrease in crying compared to infants who did not receive the treatment.
Acupuncture may also be useful in preventing nausea and vomiting in children after surgery. A study published in the Journal of Complementary Medicine examined the effectiveness of acupuncture in decreasing post-operative vomiting after tonsillectomies. Children were either given acupuncture treatments or ondansetron, a common anti-nausea medication. Those who received acupuncture treatments experienced less vomiting episodes and had no side effects, unlike those who took ondansetron.
Treatments can also help relieve common childhood complaints, including headaches, back and neck pain, allergies, anxiety, attention deficit hyperactivity disorder (ADHD), asthma and stomachaches.
Stress Relief Is an Important Benefit of Acupuncture Treatments
Stress is a particularly common problem in adults. In fact, 40 percent of people experience persistent stress or excessive anxiety daily, according to the Anxiety and Depression Association of America.
Whether you feel stressed due to a difficult job, a long commute or the demands of balancing work with family obligations, stress can make you feel miserable. Chronic stress can cause insomnia, headaches, muscle aches and gastrointestinal problems. Over time, it may contribute to diabetes, high blood pressure, obesity and heart disease.
Although medications can help reduce stress, the drugs often cause unpleasant side effects, including indigestion, diarrhea, dry mouth and double vision. Acupuncture treatments offer a drug-free way to reduce stress and avoid the serious health consequences stress causes.
Treating Osteoarthritis and Alzheimer's Disease with Acupuncture
Osteoarthritis and Alzheimer's Disease, two conditions that commonly affect senior citizens, may improve with regular acupuncture treatments. Restoring the normal flow of Qi decreases inflammation, a pivotal factor in arthritis pain. Treatments not only reduce pain, but also decrease swelling and improve range of motion in stiff joints. In fact, after treatments, some people may find that it's finally possible to walk without pain.
Both traditional acupuncture and electroacupuncture may be used to treat arthritis. During electroacupuncture, a low voltage electrical current is connected to acupuncture needles to enhance the effects of the treatment.
People who have Alzheimer's Disease may also benefit from acupuncture treatment, according to a study conducted at Wellesley College. Patients who received treatments twice a week for three months had improved thinking skills and substantial mood improvement. Although acupuncture can't cure Alzheimer's disease, it may help patients avoid depression and retain cognitive skills longer.
Acupuncture offers an effective, completely natural way to improve your health no matter what your age. If you're interested in learning if acupuncture could help you, call us to schedule an appointment.
Sources:
American Pregnancy Association: Colic
http://americanpregnancy.org/first-year-of-life/colic/
BMJ: Acupuncture in Medicine
http://www.bmj.com/company/wp-content/uploads/2017/01/acupuncture-colic-1.pdf
Anxiety and Depression Association of America: Highlights: Workplace Stress & Anxiety Disorders Survey
https://adaa.org/workplace-stress-anxiety-disorders-survey
Alzheimer's Care Quarterly: Acupuncture as a Treatment for Anxiety and Depression in Persons with Dementia
http://brainwellness.com/wp-content/uploads/2012/06/Acupuncture-Tx-of-AD-by-Emerson-Lombardo-et-al-in-Alz-Care-Quarterly-2001.pdf
Pacific College of Oriental Medicine: The Benefits of Acupuncture for Children
http://www.pacificcollege.edu/news/blog/2015/01/21/benefits-acupuncture-children
Journal of Alternative and Complementary Medicine: Transcutaneous Electrical Acupoint Stimulation Versus Ondansetron in the Prevention of Post-Operative Vomiting Following Pediatric Tonsillectory, 6/05
https://www.ncbi.nlm.nih.gov/pubmed/15992223
Acupuncture Today: Breaking Down the Pediatric Acupuncture Treatment, 1/12
http://www.acupuncturetoday.com/mpacms/at/article.php?id=32511